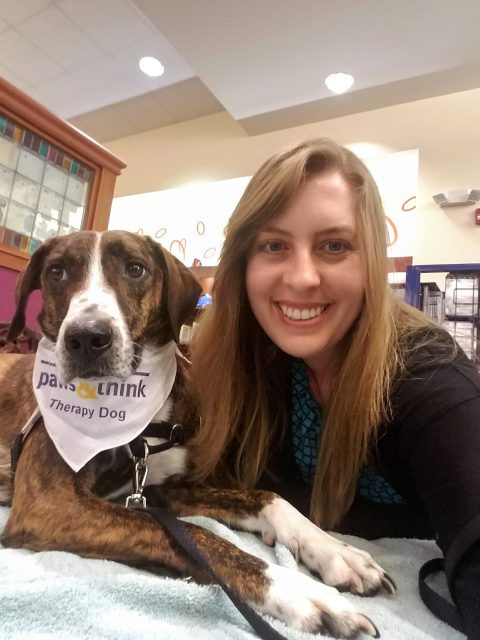 Jerica has been volunteering with Paws & Think since 2017, when she sought out the organization to register her dog, Rocky, as a therapy dog. Jerica learned about Animal Assisted Therapy in school and was interested in getting involved, so after she adopted Rocky and determined that he may be a good fit to become a therapy dog, she found Paws & Think and they began volunteering together as a therapy team. Jerica has taken on the role of New Volunteer Liaison, responsible for assisting with onboarding of new volunteers by verifying completion of applications and background checks, sending welcome communications, and entering new volunteer information into various databases.
Jerica graduated from Purdue University with a degree in Civil Engineering and worked for an engineering firm in Fort Wayne before moving to Indianapolis in 2016. Since then, she has been working at American Structurepoint as a Structural Engineer with a focus on commercial buildings. She passed her licensing exam in 2018 and is now a registered Professional Engineer. Jerica enjoys managing data and has a passion for helping animals and people. In the past she has volunteered at animal shelters as well as a local library, hospital, and has helped to organize outreach events and fundraisers.
Jerica mentions that she has been passionate about dogs her whole life, and when she was in Kindergarten she and her dog were featured in the local newspaper with a story about their special bond. In her free time, Jerica enjoys hiking with Rocky, spending time with friends and family, and traveling to new places. Rocky enjoys giving kisses on the nose, going for long walks, and listening to stories. Together Jerica and Rocky visit the Glendale Library as part of the Paws to Read program.