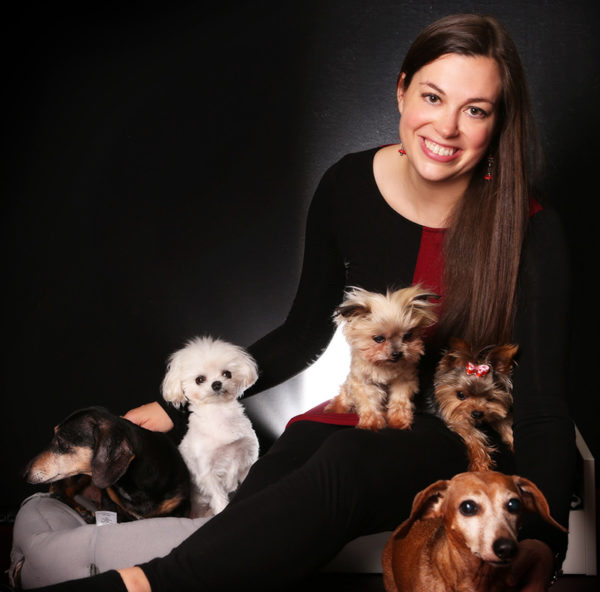 Kelsey Burton started as the Executive Director of Paws & Think in January of 2016, bringing two decades of experience in both the non-profit and for-profit sectors. She previously worked for the American Red Cross and the Family Support Center and has an extensive background in fundraising, outreach, and public relations. As a dog lover who is passionate about small nonprofits, Kelsey describes her role with Paws & Think as a "dream job – a mesh of everything I ever wanted."
Kelsey, who is an Indiana native, has been involved with nonprofits since the age of 16 – she volunteered with the Humane Society as a teenager, lead a Youth Advisory Council, was a member of Point of Youth, and went on to found the Indiana College Advocacy Team while attending Butler University. She graduated from Butler in 2006 with a degree in Biology & Chemistry. While living in Wisconsin, she attended the Leadership Development Academy and was the Membership Chair for the Chippewa Valley Fundraising Professionals. She is currently a member of Successful Women Made Here and was one of their spotlight speakers in 2017 and 2021, along with her dog Daisy (who stole the show). In 2020, Kelsey was selected as United Way's Elevate Awards Nonprofit Employee of the Year.
Kelsey lives in Westfield with her husband, Josh, and their six dogs Ava, Lily, Hermie, Dinky Bean, Trinket, and Pipsqueak. Pipsqueak is a registered therapy dogs with Paws & Think, and Pip is the smallest of our active therapy dogs, weighing under 2 pounds. Pip even has her own book, A Complete Pipsqueak, which highlights her experience as a special-needs dog who still accomplishes a lot despite her physical challenges. Pip assists Kelsey with various outreach activities and events.
Kelsey and Josh met when they were both students at Butler and have been married since 2011. Together they own their own jewelry business called A Bead For Change, and they are both active volunteers with Paws & Think. In her spare time Kelsey enjoys reading, playing with her dogs, watching movies, and spending time with her family – especially her niece, who is also a big dog lover.