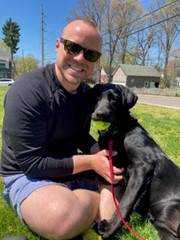 Patrick Herrel, who joined the Paws and Think board in 2021, is the Director of Enrollment and Options for Indianapolis Public Schools. His background is in nonprofit fundraising, program development, implementation and assessment, and organizational financial oversight. In addition, he volunteers with his dog Bexley, who is a trained therapy dog through Paws and Think. His involvement with the program began after he was "moved by the mission and impressed with the organization's structure."
Patrick has been in education for 16 years, starting out his career as a social studies high school teacher in Charlotte, North Carolina. He has since worked in several education nonprofits, including as the founding CEO of a Cincinnati-based education nonprofit. He's served the last five years on the administrative team at IPS.
He has a BA from The College of William and Mary in Virginia and an MBA from Indiana State University. He's also a PhD candidate for Education Administration at Indiana State University. In 2013, he was named Forbes Magazine's 30 Under 30 in Education Leaders.
Fun fact: he's named Patrick after being born on St. Patrick's Day, lucky him! In in spare time, he's an avid platform tennis player and skier and enjoys long walks and hikes with Bexley.