Paws to Heal Program Coordinator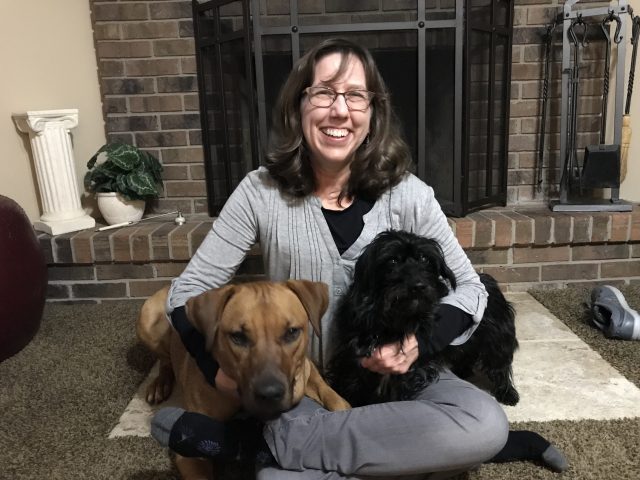 Sandi Kammerer is the Paws to Heal Program Coordinator, acting as the liaison between Paws & Think and St. Vincent Ascension's Volunteer Services and Healing Arts departments. Sandi handles all volunteer coordination and scheduling for the Paws to Heal program, maintains program documentation and compliance, and helps to assess and mentor therapy teams for the program. Before coming to Paws & Think, Sandi worked as a Project Manager for a software company in New York and served on the Board of Directors for a nonprofit focused on literacy in Maine. She is also a Certified Animal Assistant Therapy Professional through the Animal Behavior Institute, Inc., bringing a wealth of experience with both humans and animals to her role with Paws & Think.
Sandi is a longtime Paws & Think volunteer who started volunteering with her dog Maggie in June of 2014. She is still an active therapy team volunteer, now with her dog Daisy, and together they volunteer with the Paws to Read, Paws to Heal, and Paws to Comfort programs. Sandi also teaches Paws & Think's Handler & Canine Behavior classes and has been a member of the Programs committee since 2016. "Getting involved with Paws & Think was life-changing for me," Sandi says, noting that the more she learned about the organization, the deeper she wanted to get involved. She mentions that seeing the dedication and sacrifice of the volunteers and witnessing their impact on the community makes working for Paws & Think a great experience: "I have been humbled by working with these people – it's really a special group."
Sandi lives in Greenwood with her husband Larry, their dogs Daisy and Penelope, and two cats. In her free time she enjoys volunteering with her niece at the White River library, where they got promoted for demonstrating dedication and consistency as regular volunteers. She also likes to read and arrange flowers, and recently went sky-diving for the first time with her aunt, who is in her seventies.