Our Paws to Read programs are held at schools and libraries in Central Indiana and offer children an opportunity to practice reading to a Paws & Think therapy dog.
Research shows that therapy dogs can help to reduce anxiety as well as improve focus and attention span. Therapy dogs serve as a calm presence and allow children to work to improve literacy, comprehension, and communication with a nonjudgmental listener.
---
Paws & Think is an affiliate of Reading Education Assistance Dogs (R.E.A.D.), a worldwide organization focused on improving the literacy skills of children through the assistance of registered therapy teams. This partnership allows Paws & Think's therapy team handlers the opportunity to take additional training as literacy mentors to help children gain confidence, improve social skills, and develop a love of reading.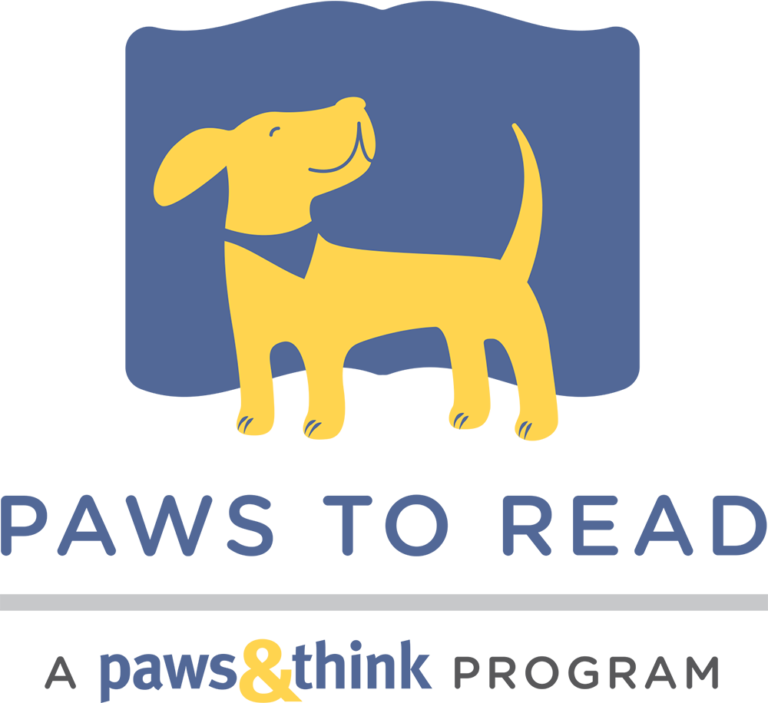 Below is our current library visit schedule. You can register to participate in Paws to Read visits via the library websites, by calling the branch, or you can sign up at the library. If you are interested in starting a Paws to Read program at your venue, please email us at info@pawsandthink.org.
Indianapolis Public Library
indypl.org
Brownsburg Public Library
bburglibrary.net
3rd Saturday, 11:00a-12:00p
Carmel Clay Public Library
carmelclaylibrary.org
4th Saturday, 10:30a-11:30a
Westfield Washington Public Library
wwpl.lib.in.us
2nd Saturday, 10:30a-11:30a
Greenwood Public Library
greenwoodlibrary.us
2nd Thursday, 6:00p-7:00p
Johnson County Public Library – Franklin Branch
pageafterpage.org
Register by calling 317-738-2833 for the Franklin Branch.
3rd Tuesdays, 6:30p-7:30pm
How to Volunteer with Paws to Read
If you are interested in volunteering with your dog as a Paws to Read therapy team, please visit our Therapy Dog Team page for more information about how to become a registered therapy team with Paws & Think.
If you and your dog have already passed Paws & Think's therapy team evaluation, contact Shannon Gaughan-Kelly at sgaughankelly@pawsandthink.org to learn more about volunteering with the Paws to Read program.
"For at least ten years now, this monthly program has been one of our patrons' most beloved events. We are a busy library, and without the gracious, dedicated volunteers and the organizational skills of their leaders, we wouldn't be able to do this. I can't tell you how many kids–even reluctant readers–light up when given a chance to curl up with a book and read to a dog who will listen without judgement."

Holly, Librarian at Carmel Clay Public Library