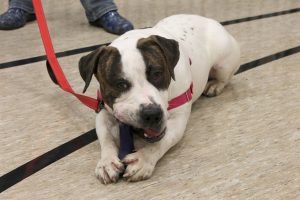 This year we were one of the nonprofit exhibitors in IndyHub's IndyVolved15, a month of civic engagement to amplify local nonprofits and help the city's residents get involved. As part of their #DoGoodOften Giving Bag initiative for the holiday season they are helping us collect donations of dog toys for the shelter dogs in our Youth-Canine programs.
We always need stuffed toys and durable chew toys for these dogs to keep them engaged during their week of training.
Other items that are helpful to support these programs are:
– Deluxe Easy Walk Harnesses
– Pupperoni sticks
– Squeeze cheese
– Peanut butter
– Hand sanitizer wipes
– Craft supplies such as adhesive letters, stickers, glue sticks, and double-sided tape to make kennel cards for the dogs when they graduate at the end of the week.
Check out our current Wish List for more items we need.