Volunteers provide comfort and emotional support to children and adults at a variety of venues in Central Indiana including healthcare facilities, schools, libraries, support groups, and more.
Paws & Think's therapy teams consist of a handler and his/her dog. Our volunteers and their therapy dogs visit Marion and the surrounding counties to provide support to those who need it most in our community.
What are Animal-Assisted Interventions?
Animal-Assisted Interventions are sometimes referred to as Pet Therapy. Therapy dogs are different from service dogs, emotional support dogs, and facility dogs in that their primary purpose is to provide affection and support to all different types of people, including members of the general public. A therapy dog is trained in basic skills, enjoys working with people, and must pass an evaluation to become part of a registered therapy team. Therapy dogs are not trained to assist one person with a mental or physical disability – instead, they promote health and wellness to all different types of people.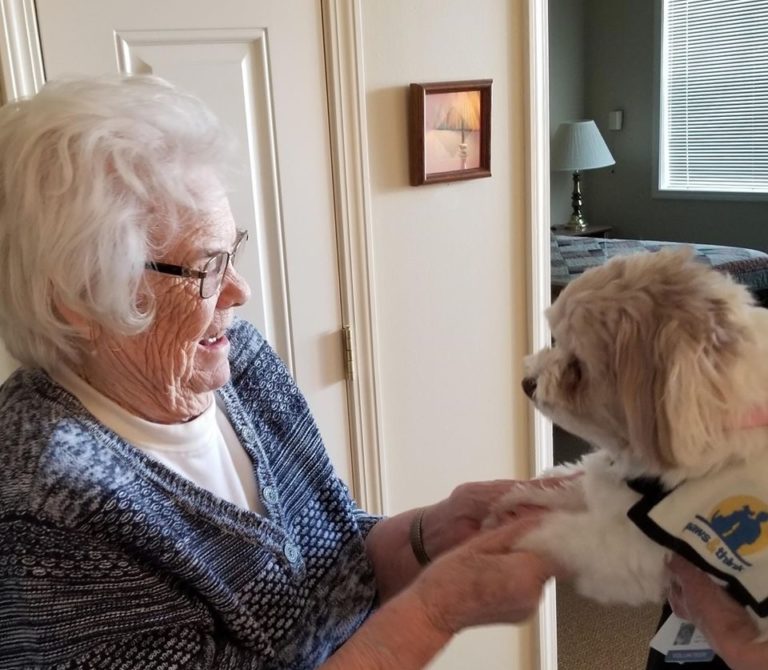 Some Examples
Children who are grieving the loss of someone close to them
Children who need a nonjudgmental listener as they read in order to improve their reading skills
Patients in hospitals who feel afraid and displaced
Seniors who enjoy the physical affection and social interaction of pets
Adults and children in physical or speech rehabilitation
Veterans and others who have suffered physical and/or emotional trauma
First responders, staff, and other personnel who help these populations
Paws & Think is an affiliate of IAHAIO: International Association of Human-Animal Interaction Organizations. This global network works to promote best practices in the field to enhance the health and welfare of people and animals. To be accepted as a member of IAHAIO, Paws & Think needs to demonstrate their commitment to IAHAIO's missions and goals and describe how our work supports positive human-animal interactions and/or animal-assisted interventions.
How to Volunteer with Therapy Dog Programs
"It has been an amazingly rewarding experience for both myself and my canine partner! I love witnessing the growth in the children we read with and my partner enjoys all the affection."

Christy, Paws & Think Volunteer
---
Types of Support Dogs
Ever wonder what the difference is between all the types of support dogs? See the graphic below!