Our Paws to Heal program partners with healthcare facilities in Central Indiana. Our trained therapy teams visit with patients, their families, and staff/associates.
Studies have shown that interacting with dogs can help lower blood pressure, heart rate, and overall stress levels. Visits with a therapy dog can provide motivation, education, and therapeutic benefits to enhance a patient's quality of life. Focusing on the dog provides mental and physical stimulation for patients that can help them become less aware of their own pain and stress. Visits can even help to improve the relationship between a patient and caregiver because the dog helps to create an emotionally non-threatening space for communication, thus lowering resistance to intervention.
Paws to Heal at Ascension St. Vincent is a proud partner of the St. Vincent's Healing Arts Department and is generously funded through the Ascension St. Vincent Foundation.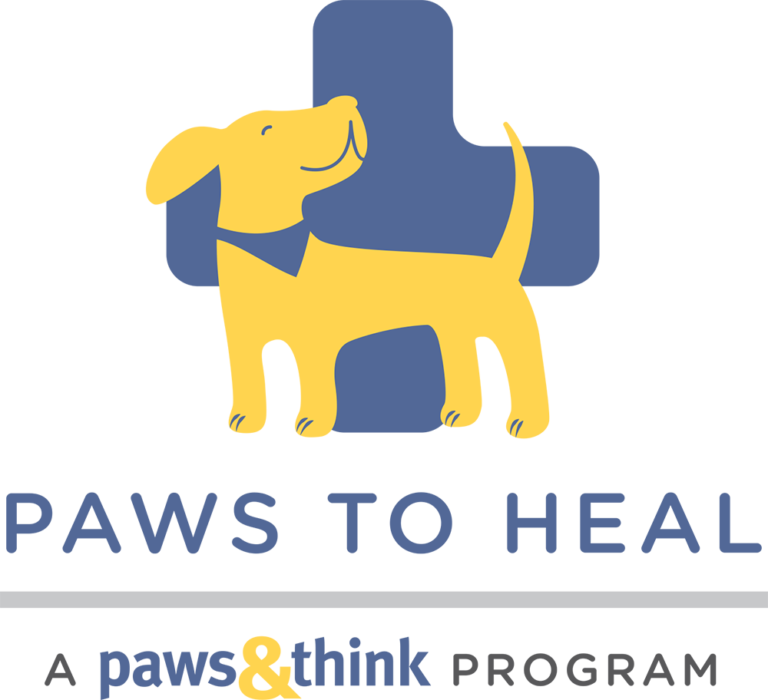 Paws to Heal Volunteers
Paws to Heal Therapy Teams: a therapy team, made up of a registered Paws & Think therapy dog and its handler, visits with patients, their families, and associates at various healthcare facilities. Paws to Heal therapy team volunteers must be registered as a Paws & Think therapy team. Each hospital and most healthcare facilities have their own additional requirements.
Paws to Heal Escorts at Ascension St. Vincent: these individuals volunteer without a dog and go with the Paws to Heal therapy team on visits with patients, their families, and associates at various St. Vincent healthcare facilities. Duties include sanitizing everyone's hands before and after petting the dog, confirming visits are wanted, introducing the team, setting up the environment, and documenting visits
---
How to Volunteer with Paws to Heal
If you are interested in volunteering with your dog as a Paws to Heal Therapy Team, please visit our Therapy Dog Team page for more information about how to become a registered therapy team.
To volunteer as a Therapy Team or Escort without a dog, contact our Paws to Heal Coordinator, Lisa Gupton, at lgupton@pawsandthink.org to start the process.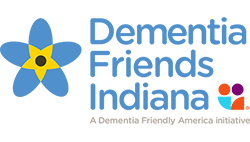 Paws & Think is a partner of Dementia Friends Indiana, administered through CICOA Aging & In-Home Solutions. Dementia Friends is a global movement that is changing the way people think, act, and talk about dementia. Developed by the Alzheimer's Society in the United Kingdom, the Dementia Friends initiative is underway in Indiana and across the United States. The goal of this collaboration is to provide Paws & Think volunteers an opportunity learn more about how to support those living with dementia, how it affects the families and how to enhance our therapy dog visits for this population and their caregivers.
"Paws to Heal has brought another whole dimension to the Peyton Manning Children's Hospital School program. The dogs, handlers, and escorts are becoming familiar faces and visitors the students look forward to each week. Many of the students are recurring and see the same dogs over several hospital stays and extended stays. The scope of lives touched by the program extends significantly past the 15-20 minute window spent with the dog. We look forward to seeing how this program continues to grow and evolve as it already has so much in the months since being established."

Heather Wiselogle, M. Ed., Hospital Based Teacher/Liaison at Peyton Manning Children's Hospital at Ascension St. Vincent