Our volunteers are the heart and soul of Paws & Think. Thanks for all that you do!
2022 Volunteer of the Year:
Carolyn Ausbrooks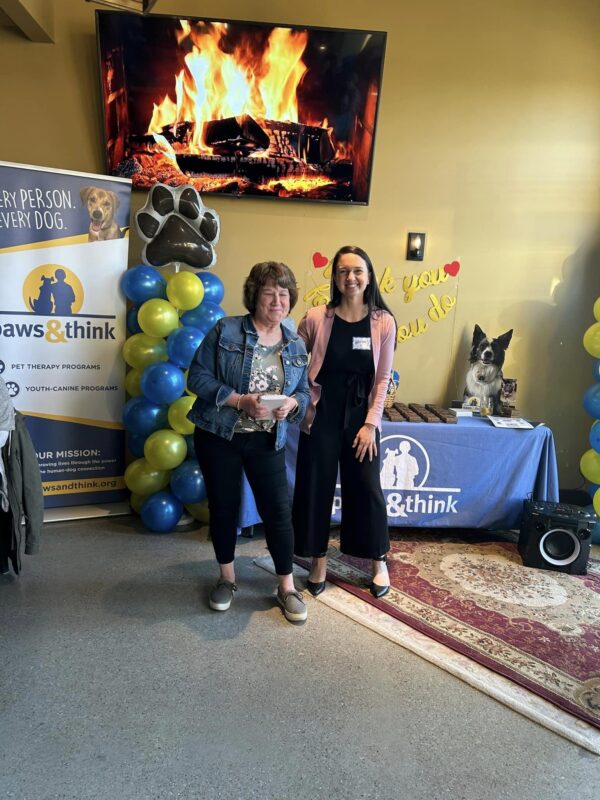 Introducing our 2022 Volunteer of the Year, Carolyn Ausbrooks – a beacon of dedication and compassion within our Paws & Think community. When tasked with nominating the most exceptional volunteer, Carolyn's name resounded in every conversation. Why? Because she embraces the spirit of service in every fiber of her being, engaging passionately in almost every program we offer, earning her the title of one of the most active volunteers of the year.
Carolyn's journey with Paws & Think began in 2020, alongside her beloved therapy dog, Dexter. Together, they graced numerous venues through our Paws to Read and Paws Around Town initiatives, bringing comfort and joy to those they encountered. But her commitment didn't stop there. Carolyn later welcomed another therapy dog, Piper, into the fold, extending their impact even further.
Her involvement in our Youth-Canine program as a dedicated Coach for teenagers and an evening care volunteer exemplifies her profound dedication to our mission. Beyond that, Carolyn's role as a Volunteer Ambassador, guiding new volunteers on their path, showcases her nurturing spirit and dedication to fostering a strong volunteer community.
Reliable and dependable, Carolyn's unwavering commitment has translated into over 265 hours of selfless service within just under three years. Astonishingly, her efforts have touched the lives of more than 2,600 individuals.
Carolyn is a shining example of the transformative power that one dedicated individual can have on an entire community. Her generosity, passion, and unwavering support embody the very heart of Paws & Think. We are profoundly grateful for her presence and her tireless efforts, and we proudly celebrate her as our 2022 Volunteer of the Year!
---
2022 Lead Volunteer of the Year:
Lauren Colbert
Announcing a new accolade to complement our Volunteer of the Year is the distinguished title of Paws & Think Lead Volunteer of the Year. This recognition celebrates those extraordinary individuals who devote a significant 2-5 hours each week to support our programs or assist with vital administrative tasks. And it is with immense pride that we present the honor of 2022 Lead Volunteer to Lauren Colbert!
If you've ever reached out to Paws & Think, chances are you've encountered Lauren's unwavering dedication. Serving as our Voicemail Coordinator, she provides invaluable support to our staff team, ensuring that every message is handled with care and efficiency.
Beyond her role as Voicemail Coordinator, Lauren's compassionate spirit extends to her cherished canine companion, Chloe. Together, they form a dynamic therapy team, spreading joy and comfort throughout various venues. Chloe's exceptional presence shines brightest during our Paws to Read sessions, where her gentle demeanor leaves a lasting impact.
As if her contributions weren't already remarkable, Lauren's role as a Volunteer Ambassador and her involvement in conducting therapy skills evaluations further underline her commitment to our mission.
Lauren Colbert's passion and commitment elevate Paws & Think to new heights. Her unwavering dedication enriches the lives of our volunteers and staff alike, and we extend our heartfelt gratitude for all she does to make our vision a reality. Congratulations, Lauren, on being a true asset to our organization!
---
Previous Volunteers of the Year:
2021 Volunteer of the Year: Marsha Thomas
2020 Volunteer of the Year: Kathy Janes
2019 Volunteer of the Year: All Volunteers
Watch the video of how our volunteers supported the community during the pandemic.
2018 Volunteer of the Year: Debbie Ryan
2017 Volunteer of the Year: Lynsey Smith
2016 Volunteer of the Year: Wendy Hendricks
2015 Volunteer of the Year: Diane Aurand
2014 Volunteer of the Year: Susan Pratt
2013 Volunteer of the Year: Margaret Drew
2012 Volunteer of the Year: Tom Janes
2011 Volunteer of the Year: Lisa Snyder
2010 Volunteer of the Year: Carol Davenport
2009 Volunteer of the Year: Rhaya Shilts
2008 Volunteer of the Year: Debbie Feltz
2007 Youth Volunteer of the Year: Sara Gibson
2007 Adult Volunteer of the Year: Jodi Van Slyke
2006 Youth Volunteer of the Year: Amanda Clevenger
2006 Adult Volunteer of the Year (inaugural): Jill Boyer
2005 Youth Volunteer of the Year: Leslie Hannah
2004 Youth Volunteer of the Year (inaugural): Keith Diemer