Our Paws to Connect program allows individuals to interact virtually with registered Paws & Think therapy teams with the goal of providing a fun break while helping to alleviate stress, loneliness, and feelings of isolation.
These lighthearted visits provide emotional connection and comfort via the power of the human-dog connection.
Research shows that watching someone connect with their dog by petting them activates mirror neurons in the observer, helping to provide the benefit of lowering blood pressure, heart rate, and overall stress levels while increasing dopamine levels in the brain.
Paws to Connect visits are open to the public and all ages are welcome.
Visits are the third Saturday of every month from 10:00-11:00am.
Register at SignUpGenius to choose your date and receive your 15-minute time slot.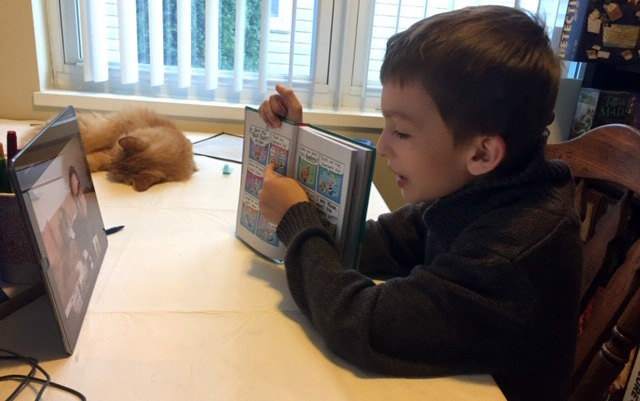 How to Volunteer with Paws to Connect
If you are interested in volunteering with your dog as a Paws to Connect Therapy Team, please visit our Therapy Dog Team page for more information about how to become a registered therapy team with Paws & Think.
If you and your dog have already passed Paws & Think's therapy team evaluation, contact Shannon Gaughan-Kelly at sgaughankelly@pawsandthink.org to learn more about Paws to Connect virtual visit training.
"Jackson and I have really missed volunteering over the last year so when I saw the Paws to Connect opportunity, I knew I had to give it a try!  We've had so much fun connecting with participants; we've shared our favorite jokes, got a private piano recital from an adorable little girl, and connected with a nice lady and her little chihuahua.  I didn't think connecting virtually would have the same impact as an in person, but Paws to Connect has proven that it's just as powerful!"

Michelle Baker, Paws & Think Volunteer