Vaccination Records Coordinator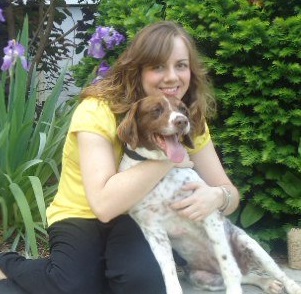 As Paws & Think's Vaccination Records Coordinator, Alison Frolik, is responsible for communicating with therapy teams to collect, update, and maintain vet records for each team. She mentions that as a library paraprofessional, she loves keeping things organized and is well-suited for her duties in this role. Alison has had various library positions over the years and currently works in a reference role at the Fishers Library.
Working in libraries, Alison says she has always envied the handlers who visited with their dogs to help children practice reading. Looking into this program led her to Paws & Think, and she explains that after learning more, she was also impressed with the Youth-Canine program: "I absolutely love the idea of loving on shelter dogs while at the same time helping youth grow their self-confidence and empathy for others." She quickly began volunteering with the Youth-Canine program and continues to help out with evening care and as a Mentor/Coach.
She has a BA from Taylor University and an M.Div. from Trinity International University and has received certificates from the dog*biz Dog Walking Academy and Pet Tech CPR & First Aid, as well as completing other pet sitting and dog training certificates. She is also a Certified Professional Pet Sitter with Pet Sitters International.
In the past Alison has fostered dogs for the Humane Society and a Brittany rescue organization and also worked for a year at a dog daycare, so she brings a wealth of experience with dogs to Paws & Think. Her career history includes working as a dorm dean at a private boarding school and serving as the Education Coordinator at the Noblesville Boys and Girls Club, so she is uniquely suited to work with both the dogs and the youth in the Youth-Canine programs. "I love dogs, people, and the mission of this organization to connect dogs and people, so that passion underlies the skills I bring to Paws & Think."
When she isn't volunteering, Alison loves to read and listen to audiobooks and podcasts. She also enjoys playing board games and attending craft beer festivals and events with her husband, as well as hiking with their two dogs and hanging out at home with their two cats. She says she doesn't often go to casinos, but on her first casino visit she got a Royal Flush at the poker machines – too bad she was only betting nickels!