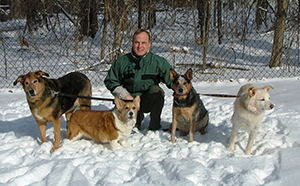 Brett Nelson is partner at the law firm of Plews Shadley Racher & Braun, LLP where he has worked since 1999. His practice includes environmental litigation, insurance coverage for policyholders, commercial litigation and intellectual property matters. Brett is a Bloomington native and he and his wife, Lori, share their Bloomington home with six dogs: Gator (Australian Cattle Dog/Blue Healer), Boomer (Golden Retriever/Great Pyrenees), Lilly (Bernese Mountain Dog/Saint Bernard/Mastiff), Penny (Redbone Coon Hound), Biscuit (Australian Cattle Dog/American Pit Bull Terrier), and Snickers (American Pit Bull Terrier mix).
Brett has a life-long passion for animals and the outdoors and has always shared his life with dogs. Brett grew up with animals in the house and all around him, including dogs, cats, birds, snakes, lizards, turtles and amphibians. During college, and after he obtained a Bachelor of Science in Biology, Brett surveyed reptiles and amphibians at NSA Crane, Camp Atterbury and throughout Hoosier National Forest through projects funded, in part, by the Indiana Department of Natural Resources. While considering veterinary school, Brett worked as a veterinary technician at clinics in Bloomington and Colombia, South Carolina. Brett also operated a specialty pet store dealing in captive bred reptiles and amphibians prior to attending law school at Indiana University in Bloomington, where he earned his J.D., cum laude.
Brett has been involved with Paws & Think since October 2013, and was invited to join the Board in January 2014. He served as the Treasurer in 2014 and as the Board President from 2015 through 2017. Brett rejoined the Board in July 2020.