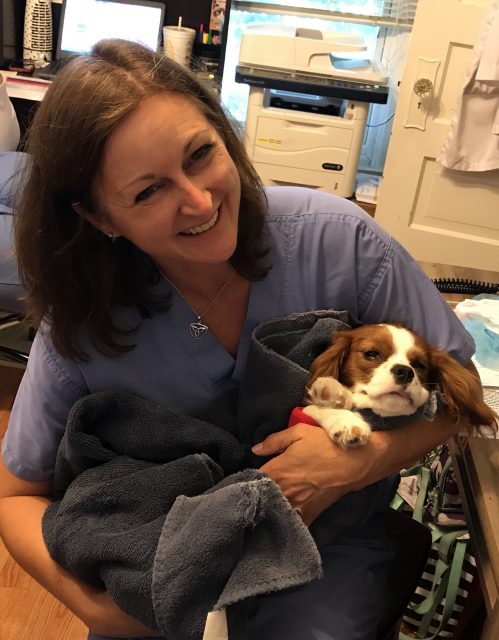 Sarah Blair joined Paws & Think's Board of Directors after attending the Dogs Are Magic event in Fall 2018, where she says she was impressed with the organization and its mission and felt drawn to get involved. Sarah brings over 15 years of experience as a small animal veterinarian to the organization, and she contributes her knowledge to Paws & Think by reviewing veterinary records for therapy dogs to ensure our dogs are properly protected and healthy.
After attending Wake Forest University and graduating from Kansas State University with her DVM degree in 1999, Sarah completed an internship in small animal medicine and surgery at Hollywood Animal Hospital in Florida. She worked there as an associate and intern mentor for 7 years before moving to Chicago, then Dallas, then Indianapolis. She currently works at Noah's Animal Hospital, where she has been since 2016.
In Sarah's spare time she enjoys traveling with her family, and she and her husband have been to all 50 states. Other hobbies include horseback riding, exercise, and being outdoors, and she is currently learning karate with her family. Sarah also volunteers for the Hamilton County Humane Society and recently completed recertification for her specialty in canine/feline general practice, known as the American Board of Veterinary Practitioners. She has two children, two cats, and one dog. Sarah's family has fostered dogs in the past, and they adopted Yogi Blair, a three-year-old Havanese rescue, in October 2019. Sarah has high hopes that Yogi can someday become a therapy dog with Paws & Think.