Program Coordinator for Paws to Heal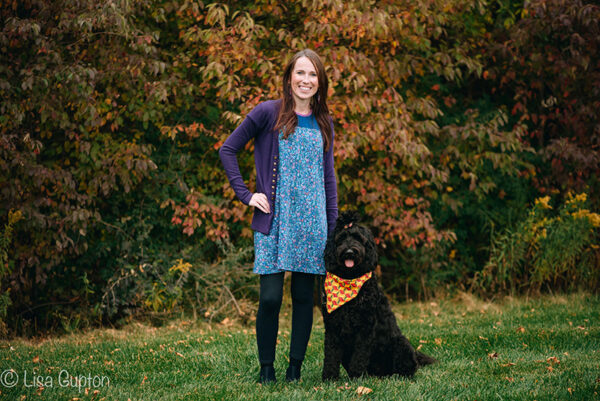 Lisa Gupton is the Program Coordinator for our Paws to Heal program. She's been a registered Paws & Think Therapy Team with her 3-year-old doodle Lulu since March 2021 and the pair volunteers as a certified READ team at Southeastern Elementary in Fishers. They are also a Crisis Response Team and visit Peyton Manning Children's Hospital twice a month. Lisa has also been an assistant trainer at our therapy skills classes.
Lisa says she understands firsthand the power of pet therapy. When her son was in and out of the hospital when he was younger and he was positively impacted by pet therapy, they eventually decided to get a puppy (Lulu) from an experienced breeder and train her to be a therapy dog. "We wanted to give back. We know firsthand the difference it can make in a patient's life and wanted to share that joy through our dog. Knowing that I am part of this team that gets to bring joy to so many people makes me very happy."
Lulu is a 3-year-old Goldendoodle. Lisa says her family affectionately calls her their "not-so-golden Goldendoodle," as she is solid black. She is a standard doodle, so she is about 67 pounds and is 100 percent a lapdog. She is very affectionate and happy and being a therapy dog is the very best job for her. She loves to cuddle and get pets, as well as get her well-deserved pup cup afterwards. She's very smart and knows about 70 words at last count.
Lisa grew up in southwest Missouri and received her Bachelor of Science in Biology from Missouri Southern State University. She studied abroad at Cambridge University in England while in undergrad. After graduation, she moved to Lexington, Kentucky, to attend graduate school at the University of Kentucky. She holds a master's degree in Integrated Biomedical Sciences from the University of Kentucky. Lisa has grant-writing experience and has had works published.
She was the area coordinator for Now I Lay Me Down to Sleep for 6 years and ran a successful photography business for 8 years. She has a vast experience with marketing, scheduling, and crisis response, as well as managing volunteers and public speaking.
Lisa and her husband have been married for 15 years and have three kids. She loves to watch her kids play sports and enjoys attending professional and college sporting events. Her family also loves rollercoasters. She loves to travel and when she can find time, she enjoys photography, sewing and reading.