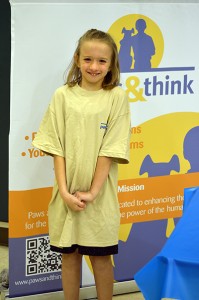 On April 12th, Paws & Think teamed up with Giving Sum to put on a Book Fair at Indianapolis Public School #34. There were therapy dogs, refreshments, and over a thousand books. All of these added to the success of the fair, but one young student's contributions made the book fair really shine.
Several weeks before the event, Olivia Slavens, 4th grade student at Clark's Creek Elementary School, was given $50 by the Avon Christian Church to help start a "Pay it Forward" campaign. This was part of an initiative to allow young church-goers the chance to make a difference in their community. As a lover of dogs, Olivia and her mother reached out to Paws & Think to see how they might help. After some brainstorming, the Paws & Think team told Olivia she could help out with the book fair they were planning for April 12th.
By teaming up with her classmates, Olivia started a campaign to collect gently used and new books, dog leashes, collars and treats to bring to IPS #34's book fair. "Let's make a difference in these kids lives!" she says in a video she created to promote the project, which was posted to Facebook as well as the church and elementary school's websites. Paws & Think executive director, Brad Kupper, and volunteer Margaret Drew came to Clark's Creek Elementary, along with their dogs Bella and Brewser, to educate the students on Paws & Think's mission and to help Olivia promote the event even further.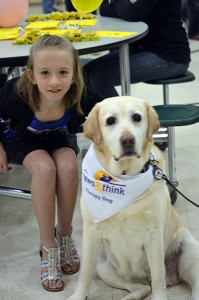 The day of the fair, students gathered at IPS #34 to choose a book, meet with the therapy dogs, and even catch up with Hink the Bulldog – Butler University's mascot. Olivia joined in on the fun, bringing gifts for the dogs, $75 to help Paws & Think's efforts, and over 600 books. Originally, the goal was to give 1 book to each child in attendance. With Olivia's help, they were able to not only triple that number, but can now add many of the books to IPS #34's Literacy Center, which will be renovated with new lighting and furniture later this year.
Olivia Slavens was determined to help make a difference in the lives of students and animals in need. With the help of her church, her fellow students, and Paws & Think, she was able to go above and beyond in making a difference for a great cause. Thank you Olivia!