Dear Friend,
My name is Lambeau, and I'm a therapy dog with Paws & Think. Being a therapy dog is my favorite thing in the world. My mom, Sheri, says I thrive on making people happy, so this is the best job for me and her to do together. My purpose in life is to make people smile!
We usually visit the kids at Riley Children's Hospital every other week, but lately we haven't been able to do our regular visits. I really miss seeing my friends! I take my job very seriously, and when I don't get to visit it makes me sad. That's why I was so happy when my mom and I got to go to the Indiana Donor Network camp and visit with the kids. This was our first visit in over six months, and I couldn't wait to get back to work!
The camp was to honor organ, tissue, and eye donors. My mom and I visited with kids who were grieving the loss of these donor heroes. Seeing the kids light up when they saw me made my whole day! I LOVE HUGS, and I got so many from the kids, their families, and even from the staff members who were working at the event. I am happiest when I am snuggled up tight in a hug with one of my friends, and I'm pretty sure it makes them happy too!
The best part of the event though, even better than the hugs and the pets, was listening to the kids' stories. I am an excellent listener, so my mom asked the kids to tell me about the loved one they had lost. I think that kids know that they can talk to me about feeling sad, even when they don't feel comfortable talking to other humans. Dogs are very loyal and trustworthy, in case you didn't know.
I was so happy I got to go to this event, and that two other therapy dogs were also there to help me make people feel better. My mom says that the best thing about volunteering with Paws & Think is making people smile in challenging times, and I agree. She says it has been an honor to be able to share me with other people, and I am so glad that she did!
For Giving Tuesday, will you donate to Paws & Think to support training more therapy dogs like me to bring smiles and comfort to people who need it most in our community?
Thank you for listening to my story!
Love always,
Lambeau
Paws & Think Therapy Dog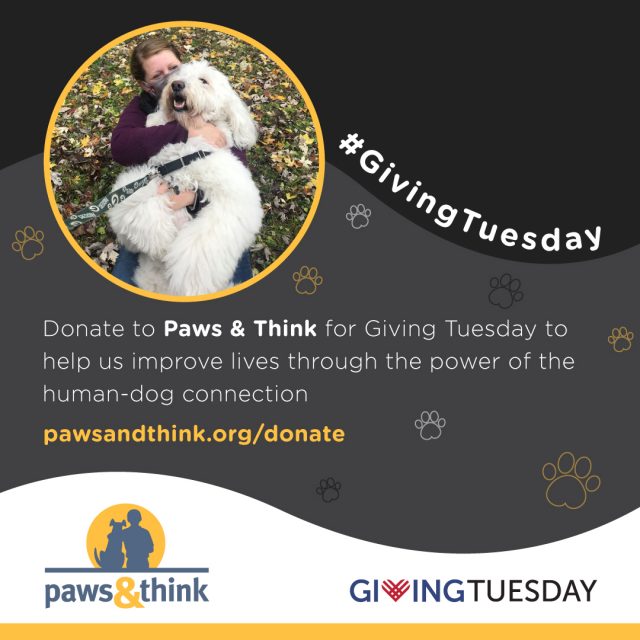 By donating to Paws & Think for Giving Tuesday, you are helping therapy dogs like Lambeau reach their full potential.
At Paws & Think, our vision is to create a community where every person who would benefit from a dog has the opportunity, and every dog fulfills its potential.
Every Person. Every Dog.
You can help us to reach this goal by donating this Giving Tuesday.
In addition to the over 60,000 people we provide Pet Therapy to each year, our Youth-Canine Programs help shelter dogs and youth get a second chance.
Whether its our work through our Pet Therapy Programs, or our Youth-Canine Programs, our volunteers make a HUGE impact every day.
Please donate this Giving Tuesday and give the gift of love during this difficult year.