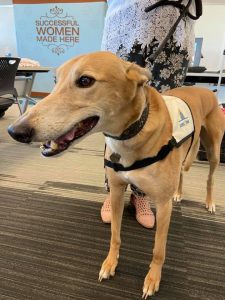 We are devastated to hear about the unexpected passing of Paws & Think therapy dog Finn. Finn was six years old and passed away after a dental procedure. Just last week, he and his handler, Kathi Moore, attended the kickoff event at Clothes With a Cause and the speaking event at Successful Women Made Here.
Finn was well-known as he and Kathi were a very active team and visited many venues including Riley Hospital for Children, Brooke's Place, Camp Healing Tree, and many of our stress-less events. He was also a neutral dog for our training classes and evaluations.
We miss you already, Finn. Thank you Kathi for sharing your incredible boy with so many in the community.
This Sunday, we invite our teams walking in Walking for Dreams to walk in his honor if they feel so inclined. He would have been there with us that day.
If you'd like to give a gift in Finn's honor, you may do so at pawsandthink.org/donate. Please email Kelsey at kburton@pawsandthink.org after to let her know it's in his honor. We will let Kathi know if you donate.
(Please note: Dentals are a very important procedure for a dog's health. Like any procedure with anesthesia there are risks. "The greyhound is the only breed with a documented breed-specific sensitivity to particular anesthetic drugs. Greyhounds have prolonged recoveries following anesthesia with thiopental due to a deficiency in the hepatic enzyme responsible for the first step in the metabolism of that drug." Please continue to follow your vet's guidance on the best care for your pets.)