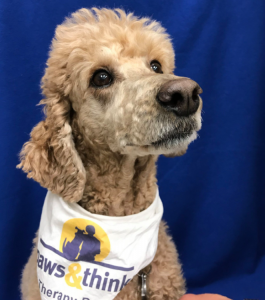 We are very sad to let you know that therapy dog Leo has crossed the rainbow bridge.
Leo and his handler, Clare Morrison, were a regular team at Ascension St. Vincent, visiting ASV Women's Hospital and Peyton Manning Children's Hospital. Leo was such a sweetheart and a wonderful therapy dog. Clare once said Leo was her "can take anywhere" dog. He will certainly be missed.
If you'd like to make a gift in memory of Leo, you can do so via our Facebook page or by visiting pawsandthink.org/donate. If you donate on the website, please let us know it's in Leo's memory.