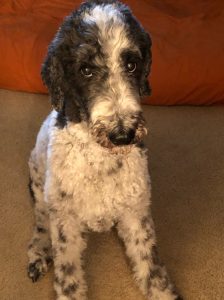 We are very sad to let you know that therapy dog Splash has crossed the rainbow bridge. Our Volunteer Coordinator, Kathy Janes, shares some fond memories of him:
"We first met Splash at a family event, PBS Kids in the Park, at Military Park in 2009. Splash and Mater hung out together to let kids read to them. They also got to meet the police horse that was there. Splash made many appearances as a neutral dog in the time he lived with his original owner, Anne Wolpert. He also visited schools with Anne and loved to chill as kids read to him or just loved on him. When Anne had to rehome Splash, Martha Karatz was thrilled to add him to her pack. He enjoyed a good life there and played with her grandchildren and visited their school occasionally. He also got to hang out at the Jewish Community Center when Martha was working there. Splash was a standard poodle with gentle ways and lots of love to give."
If you'd like to make a gift in memory of Splash, you can do so at pawsandthink.org/donate. Please let us know it's in his memory.