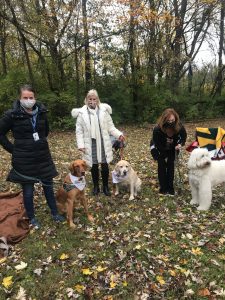 The Indiana Donor Network recently held a special event honoring organ, tissue, and eye donors. Several Paws & Think therapy teams participated in this one-day camp to provide support for the children grieving the loss of these donor heroes.
The kids loved spending time with the pups and there was lots and lots of laughter. After loving on the dogs, one of the staff members said, "I didn't even know that today would be so good for me, too." Our therapy dogs and their handlers uplift everyone they cross paths with during their visits, even those who don't realize they need a pick-me-up!
A volunteer also shared a heartwarming story from the event:
"While at our event on Saturday, we were sharing donated books with the kids. These kids all experienced the death of someone close and were getting a day full of fun activities including time with our therapy dogs. I was helping to make sure that the kids knew the table full of books was available to them. I chatted with one teen who was looking through a book of poems about dogs. She said she loves poetry and likes to read Shakespeare even though she doesn't always understand all of it. She also enjoys writing poetry. Later I noticed she was still sitting reading the book so I told her that she could take it with her. She looked puzzled and asked "Do I bring it back here then?" I explained that she doesn't need to bring it back, she can keep it. Her eyes lit up and she hugged it close and said "Oh wow, I can keep it!" And then a very soft, heartfelt, "thank you." She then said another thank you as her group was leaving. We don't always know when or how these donations are making an impact but I can tell you that one book certainly made a difference on Saturday."
Thank you to the The Luminous Fund, JE Fehsenfeld Family Foundation, Junior League of Indianapolis, and the Rogers Family Foundation for their support of our programs this year, and a special thank you to our many book donors who make moments like this possible!