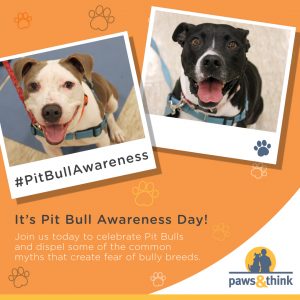 Today is National Pit Bull Awareness Day! At Paws & Think we believe in every person and every dog, and our Youth-Canine Programs help many pit bulls from local shelters fulfill their potential. We educate the teens who participate in these programs on many common myths about pit bulls to dispel misinformation about these misunderstood breeds.
The American Temperament Test shows that bully breeds typically referred to as "pit bulls" consistently score above average on temperament for all breeds tested, and there is no scientific evidence that pit bulls are more likely than other breeds of dogs to injure a human or another dog.
We even have several Paws & Think therapy dogs that are pit bulls! Share a picture of a pit bull that you know and love on Instagram, Twitter, or Facebook and tag us to celebrate with us today!