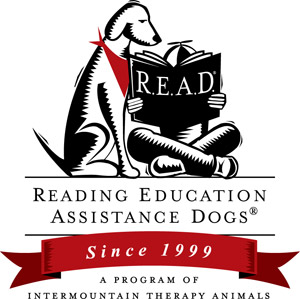 WHEN: 10:00 AM to 4:00 PM (with a break for lunch)
WHERE: Old National Bank
4308 East 96th Street Indianapolis IN
(Google Map: https://goo.gl/maps/CF7zd )
Cost (including all training materials) is $75
If you already have a R.E.A.D. manual the workshop is $42
Register early, space is limited!
To register make checks payable to Paws and Think and send to:
Kathy Janes
3668 Tahoe Ct
Carmel, IN 46033
If you have any questions, contact Kathy Janes, kjanes@pawsandthink.org
In this workshop you will learn how to:
• Effectively conduct a reading session
• Successfully mentor young readers
• Set up a program in schools, libraries and other settings
• Help convince decision-makers in your community that R.E.A.D. works
• Help make reading FUN with different tools and techniques, and
• Benefit by becoming a registered R.E.A.D. member
This is a fast-paced, information-packed class for humans only. The emphasis is on what you need to know to organize and conduct a successful reading program. It is not a training class to teach your dog specific skills.