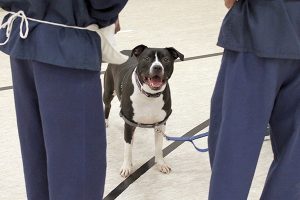 Since 2001, Paws & Think has been impacting communities in Central Indiana with our mission of improving lives through the power of the human-dog connection. One of the ways that we are able to support those in our community who need it most is through our Youth-Canine programs, where vulnerable youths are paired up with shelter dogs for a weeklong positive reinforcement training class that benefits the youths and the dogs. The goals of this program include instilling positive life skills in the youths and increasing adoption rates for the shelter dogs. Since 2013, our Youth-Canine programs have served over 520 vulnerable youths and 260 shelter dogs.
Paws & Think's longest standing Youth-Canine program is the Pawsitive Corrections Youth-Canine Program, a partnership between Paws & Think, the Marion County Juvenile Detention Center, and Indianapolis Animal Care Services. For this program, Paws & Think's trained temperament tester selects dogs from Indianapolis Animal Care Services to participate in the training class at the Marion County Juvenile Detention Center. An empty cell block is used to house the dogs for the week, and the dogs get a much-needed vacation from the crowded chaos of the shelter. Each cell is transformed into kennels so that each dog has a safe and secured space to sleep.
During the week of the program, incarcerated juvenile offenders are paired up with the shelter dogs, and together each pair learns the basics of positive reinforcement obedience training. Paws & Think's professional dog trainer leads the class, and the youths work through a series of exercises with their dogs to teach them basic commands. Paws & Think volunteer coaches act as mentors to help guide the youths and instill a foundation of positive learning that leads to success for both the youth and the dog.
At the end of the week, each youth makes a graduation card for their dog that is displayed on the dog's kennel when it goes back to the adoption floor at Indianapolis Animal Care Services. The card indicates the commands and skills that the dog has mastered to help increase the dog's chances of finding a permanent home. In 2017, the Pawsitive Corrections Youth-Canine Program celebrated a 100% placement rate for dogs that participated for the year, meaning that all dogs were adopted after they graduated from the training program.
In the past two years, Paws & Think has been able to expand our Youth-Canine programming beyond the Pawsitive Corrections Program, partnering with Warren Central High School and local foster-based rescues for the PAWs (Pups and Warriors) Program and bringing together Fishers Youth Assistance Program and the Humane Society For Hamilton County for the Hamilton County Youth-Canine Program.
With the support of our volunteers and donors, we continue to be able to help both at-risk youth and dogs to make our community a better place.