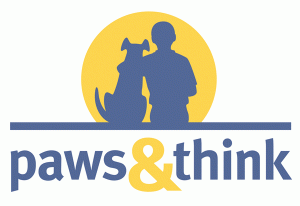 Media Contact:
Adam Whitaker
AWhitaker@PawsAndThink.org
317-667-5532
INDIANAPOLIS, Indiana (January 23, 2013) – Paws & Think, Inc., announced the appointment of Brad Kupper as its new Executive Director and launched a new branding identity. Kupper will provide strategic direction for the organization and oversee its fundraising, marketing and volunteer recruitment efforts. Paws & Think is an all-volunteer, non-profit organization that enhances the quality of life for the at-risk community, especially children, by leveraging the human-animal bond. Core services include providing youth-canine programs and registered therapy animals to serve the greater Indianapolis area.
Kupper brings a lifelong dedication to animals and their welfare. The Indiana native volunteers as an assistant dog trainer with Doggone Connection companion dog training. His dogs, Jackson and Brewser, are active volunteers with Paws & Think, participating in the Glendale Library reading program. He has also volunteered at the Best Friends Animal Sanctuary in Utah. Kupper is a business development/marketing manager for a local roofing company and a graduate of Speedway High School and Indiana University. "I am passionate about my love for the Indianapolis community and the potential of bringing a sense of pride and self-confidence to those more challenged by daily living," Kupper said. "I know that dogs can sometimes make a connection with people in need. That is what we do – help dogs help people."
Paws & Think also debuted their new branding initiatives, including a new logo, motto (Unleashing Potential) and website, www.PawsandThink.org. "Our rebranding is new and improved, but our longtime focus of serving the at-risk community remains the same," said Kupper. "We look forward to developing new programs and relationships that will positively affect more lives, both canine and human, in Indianapolis. We are ready to move into 2013 with a purpose that is stronger than ever."
Lynn Wilson served as Paws & Think's Interim Director following the passing of founder and Executive Director, Gayle Hutchens, in 2011.
###
About Paws & Think, Inc.
Founded in 2001, Paws & Think's mission is to serve at-risk youths, at-risk canines, and children and adults with disabilities and special needs in Central Indiana. Paws & Think is a 501(c)(3) non-profit, all-volunteer organization headquartered in Indianapolis, Indiana. It works in partnership with schools, detention centers, youth agencies, humane societies and shelters. For more information, please call (317) 520-2729 or visit www.PawsandThink.org.