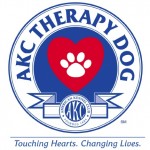 Paws and Think, Inc. is proud to announce that we are now on the American Kennel Club's list of THERAPY DOG ORGANIZATIONS. This is exciting in the recognition it brings us as the only Indiana therapy animal organization listed. It has only been in the last few years that the AKC has allowed mixed breed dogs to be registered as Canine Partners, making it possible for all of our registered therapy dogs, whether mixed breed or purebred, to be eligible to qualify for the new AKC Therapy Dog title.
Since our recognition, two of our dogs have achieved this title by completing these requirements:
Certified/registered by an AKC recognized therapy dog organization.
Perform a minimum of 50 visits.
The dog must be registered or listed with AKC.
We are very proud of Mater, owned by Tom & Kathy Janes, and Shane, owned by Mary Beth Googasian. Several of our other volunteers are very close to achieving this prestigious recognition. Visit them on our Therapy Dog Gallery, coming soon!