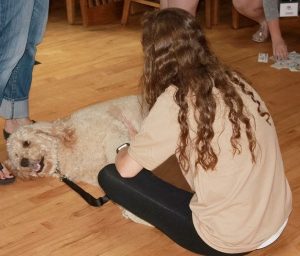 Indianapolis, Indiana – Paws and Think therapy teams assisted the students at Warren Central High School after tragedy struck last month. Therapy teams were called in three times to help students cope with the shooting of three classmates.
Dogs are often used to provide comfort during a crisis because they offer unconditional acceptance in these situations. They give comfort through their willingness to be petted, hugged, or simply present with no words or actions.
Crisis response requires training by dogs and their handlers. Paws and Think offers a four-hour training program to help handlers understand how others react to trauma.
The therapy teams were brought into a room where grieving students had gathered. As the dogs moved through the area, students started to feel comfortable to reach out and connect with the dogs and talk with the handlers.
"The handlers talk with and listen to the students as they process the crisis and the impact it has had on them personally," says Gerry Griffith, a Paws and Think volunteer and trainer for Indiana Crisis Assistance Response Team. "If other concerns become apparent, the handler will give that information to a school counselor or administrator."
Every person has a different reaction to the dogs during a crisis. Some interactions are short, while others want to spend time petting the dog and talking to the handlers.
"Dogs have an intuitive instinct to go to those that are most open to connecting with the team and those that are in the most pain," says Griffith. "Many times you will see the dog leading the handler to the individual that will be most served by their presence."
Warren Central received a lot of positive feedback from students, teachers, administrators, and community members about how much support the therapy teams were able to offer to grieving students.
"They truly helped many cope with the tragedies," says Brad Morgan, Counselor at Warren Central High School. "We are very thankful for such a great organization that is willing to drop everything and serve our kids."