The winner of our 15th Anniversary Photo Contest is Fritz!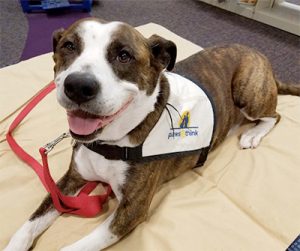 Fritz has been on quite a journey. Adopted by Mary Bennett from Indianapolis Animal Care & Control, the Staffordshire Terrier/Bulldog mix became a Paws & Think therapy dog, and now he has just won the #pawsandthink15 photo contest!
What made Fritz stand out to Mary at IACC? "After looking at many, he stood out because he was so loving," she explains. "He thinks he's a lap dog and just wanted to snuggle and love."
Fritz's happy-go-lucky spirit made him a perfect fit for serving with Paws & Think. Since February 2016, he has volunteered at locations such as Brooke's Place, which provides support to young people and their families after the loss of a loved one. "He loves being with the people, especially the children at Brooke's place," Mary says. "It's great to know we can help in some small way to make people's days a little brighter, and I love that we can do it together."
And Fritz doesn't stop at just loving people. He loves spending time with other dogs and cats – and even loves going to the vet!
So, does Fritz have any other surprises up his sleeve? "He doesn't have a large repertoire of tricks, but he does love to give people high fives," Mary says. Well Fritz, in honor of our 15th anniversary, here is a virtual high-five to commemorate your victory! Congratulations!