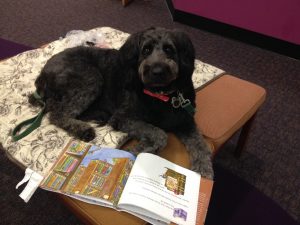 Did you know that our Paws to Read program is more than just an opportunity for kids to read to a dog?
Paws & Think is an affiliate of Reading Education Assistance Dogs (R.E.A.D.), a worldwide organization focused on improving the literacy skills of children through the assistance of registered therapy teams. R.E.A.D. is built on the foundation of classical human-animal interaction research and is supported by documentation in ongoing field studies.
This partnership allows Paws & Think's therapy team handlers the opportunity to take additional training as literacy mentors to help children gain confidence, improve social skills, and develop a love of reading.
To learn more about our Paws to Read program and to view our virtual visit schedule, visit https://www.pawsandthink.org/programs/paws-to-read/