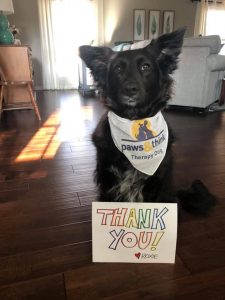 We want to send a big thank you to all the staff and volunteers at the shelters, especially our partners at Indianapolis Animal Care Services and Humane Society for Hamilton County. Thank you!
Our friends at Indianapolis Animal Care Services need our help. Here are some ways you can support them:
You could make masks and gowns for the shelter staff. This website has information about PPE for shelter employees and volunteers.
You can also design and send cards or letters to the staff and volunteers continuing to respond to calls and care for the animals here at the shelter. Their address is 2600 S Harding St, Indianapolis, IN 46221.
If you are interested in adopting or fostering an animal from IACS, they are doing this by appointment only with curbside meet and greets. Please contact them directly to set up an appointment.