When Executive Director Kelsey Burton called with the tragic news that three students from Warren Central High School had been killed, Marcia Baker knew that her therapy dog, an Australian Shepherd/Poodle mix named Raisin, could be a source of comfort for the grieving student body.
"I was more than glad to help out," Marcia said, although she wasn't sure what awaited her and Raisin at the school. "I couldn't imagine thousands of students grieving over what was such a raw and tragic event."
So off went Marcia and Raisin to Warren Central.
It was a typical reaction for someone whose love of both dogs and helping teens in need goes back decades.
Marcia grew up in St. Petersburg, Florida, in a dog loving family. Whether it was tramping through the woods or playing in the creek, dogs were a constant presence in her life. "I can't remember a moment when there wasn't a canine friend in the family," she said.
Marcia eventually became a teacher, working with at-risk teens in challenging environments and communities.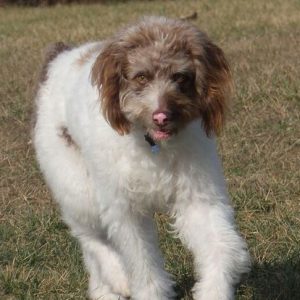 More recently, she became the owner of three-year-old Raisin. Marcia described Raisin as playful, yet relaxed, as she recalled the time Raisin slept on her back in the crate on the way home from Kentucky, where she was adopted.
Marcia soon realized that Raisin's happy-go-lucky nature was perfectly suited for a dog therapy setting. "When Raisin came into my life, I knew I wanted to share her with anyone who needed a canine friend," she said.
So when Marcia learned about Paws & Think while searching for pet therapy opportunities, she jumped at the opportunity for her and Raisin to get involved.
The duo travel all over Indianapolis giving comfort to kids in venues such as IPS #34, Brooks Place, Coburn Place, and Julian Center.
In addition to volunteering with Raisin, the Youth-Canine Program is a passion of Marcia's given her background in helping troubled teens.
"Getting back to this love of mine, along with my love of dogs, this program was just perfect for me," Marcia said of Youth-Canine.
For the program, Marcia has spearheaded the effort to develop new program training materials so that the program can be replicated in juvenile detention centers all over the country.
The materials, Marcia explained, will "make what we do easier, more focused, and increase the opportunity to bring about even better outcomes for the dogs and youth participating in the program."
But while programs like Youth-Canine involve a highly structured training program where at-risk students teach the basics of dog obedience to their canine pupils, when it came to comforting students at Warren Central, there was no program that could prepare Marcia and Raisin for what they would experience.
When they arrived at the school, the pair was greeted quietly by faculty and staff and instructed to just be available for the students.
"Raisin realized that this wasn't a time for play," Marcia said.
The pair wandered through the clusters of students who were sitting on the floor, standing along the hallways, and gathering in the counseling offices, trying to process the horror of what had happened.
"There wasn't much need for words," said Marcia. "Raisin was more than happy to lay next to a student or be surrounded by a group of students and be touched as they worked through their feelings."
However, as time went on, lighter conversation emerged from the silence as the students began to bond with Raisin. They inquired about her breed (often a topic of mystery among those first meeting Raisin) and her love of full-body massages. Many of them would also begin to open up and share their own dog stories. "This seemed to ease them back into the 'normal' world again," said Marcia.
After several days of being available for students, fewer and fewer students continued to need help. High school counselors gently guided students back into class.
By Thursday, the counselors informed Marcia and Raisin that their job was done. Although their calming presence was no longer needed at Warren Central, Marcia is ready to serve again if needed.
"We will be there in a heartbeat if we get the call."