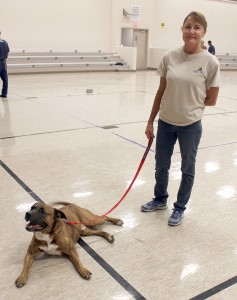 As an animal care technician at Indianapolis Animal Care and Control, Nancy Mynatt has made a big difference in the lives of countless canines. But two years ago, when she learned about the Youth-Canine program from fellow employee Jodi VanSlyke, she saw an opportunity to not only improve the lives of dogs, but the lives of youth as well.
Since then, Nancy has served as a dog handler in the program, helping academically and behaviorally challenged students learn how to train shelter dogs in need. With Nancy's guidance, the youth teach the dogs basic obedience skills, including sit, stay, look, and leave it.
Both trainee and trainer are on a journey of learning and growth during the course of the Youth-Canine program. Nancy has witnessed firsthand how the improved focus, confidence, and self-esteem of the dogs is contagious to the students. "My favorite part of volunteering in the program is when the kids get excited about the progress the dogs are making. It's something positive that makes them smile".
While the students graduate the program empowered with the principles needed to make good life decisions moving forward, they've also given the dogs a priceless gift – adoptability. What is the news that Nancy is always hoping to hear? "When we get news that the dog has been adopted!"